Casa del Daiquiri Cocktail Box
£29.00
BIN0079446

Plants 1 tree
You can track your impact after purchase.

4 variations on the Daiquiri crafted by world-class mixologists. Each made with Ron Santiago de Cuba 11 yrs.
Key Ingredients:
El Oriente

|
Noches de Malecon

|
Forgotten Daiquiri

|
El Presente
What's in the box
Imagine being on the best holiday you've ever had and envision a breathtaking sunset. Now, picture this memory as a cocktail. That's exactly what we've done with these 4 Daiquiris, crafted with the full-flavoured Ron Santiago de Cuba rum, aged for 11 years and boasting hints of vanilla, coconut, and almond.  You'll definitely impress your guests at your summer dinner with this gift set!
Our leading international Mixologist, Patrick Pistolesi, handpicked the top 4 mixologists from around the world and challenged them to create their best Daiquiri using Ron Santiago de Cuba rum. The result? 4 unique and delicious reinterpretations of the classic cocktail that you absolutely must try.
So, whether you're reminiscing about past holidays or creating new memories with your loved ones, these Daiquiris are the perfect addition to any summer celebration. Don't miss the your taste of paradise.
Forgotten Daiquiri – by Jimmy Bertazzoli, Italy
(Ron Santiago De Cuba Extra Añejo 11 years / Cachaça Yaguara Organico / Peychaud'S Bitter / Angostura Bitter / Toschi Liquid Sugar / Liquid Citric Acid / Water| 24% VOL.
The 19th and early 20th centuries saw a new era of cocktails. By blending bitter and sweet flavours with sugarcane juice, we bring the authenticity of the Daiquiri, to your glass, a cocktail conceived during Cuba's Golden Age, with a modern twist. Prepare to savour the true essence of Cuban culture, infused with a contemporary touch.
Noches de Malecón – by Federico Pavan, London
(Santiago De Cuba Extra Añejo 11 Year Old Rum / Briottet Crème De Melon / Bordeaux Coffee Liqueur / Organic Citric Acid / Water | 19.7% ABV)
This cocktail captures the essence of El Malecón, the iconic waterfront of Havana. Instead of the usual lime, the recipe calls for refreshing melon, while the aromatic liqueur is made from the finest coffee beans grown in Cuban plantations. We're carried straight to the vibrant streets of Havana with every sip of this delightful cocktail.
El Oriente – by Georgia Billing, London
(Santiago De Cuba Extra Añejo 11 Year Old Rum / Mandarine Napoleon Cognac / Ginger Liqueur / Organic Citric Acid / Water | 24% ABV)
Experience the rich flavours of Cuba, infused with the spices of the Far East and delicate citrus notes. Each sip will bring you on a trip of the senses, as the exotic blend of ingredients tantalises your taste buds and leaves you feeling invigorated. It is the perfect drink to unwind after a long day or to celebrate a special occasion with friends. Give in to the flavours of the East and embrace the magic of Cuba in every sip of this delightful cocktail.
El Presente Daiquiri – by Patrick Pistolesi, Italy
(Aged 11 Years Ron Santiago de Cuba™ extra añejo / Giffard Caribbean Pineapple / Bols Passion Fruit Liqueur / Maraschino / Organic Citric Acid / Toschi Liquid Sugar / Water | 24.8% ABV)
Inspired by an authentic journey to Cuba, the El Presente cocktail is bursting with the flavours of pineapple and passion fruit, adding a unique touch to the light-bodied 11-year-old Ron Santiago de Cuba rum. This exquisite cocktail is a true explosion of taste, instantly sending you to the heart of the Caribbean with every sip. The fruity notes blend seamlessly with the smoothness of the rum, creating a delightful contrast that will leave your taste buds eager for more. So sit back, relax, and immerse yourself in the vibrant and colorful world of Cuba with a glass of El Presente in hand.
The Concept
Experience the taste and excitement of our Daiquiri with a touch of quality delivered right to your doorstep. Whether you choose to enjoy it in the comfort of your own home or elsewhere, our cocktails are crafted using Patrick Pistolesi's authentic recipe and wrapped in beautiful recyclable packaging. Treat yourself to a sensory journey and give yourself or your loved ones a moment of pure bliss. Our cocktails will satisfy your taste buds and leave you craving for more.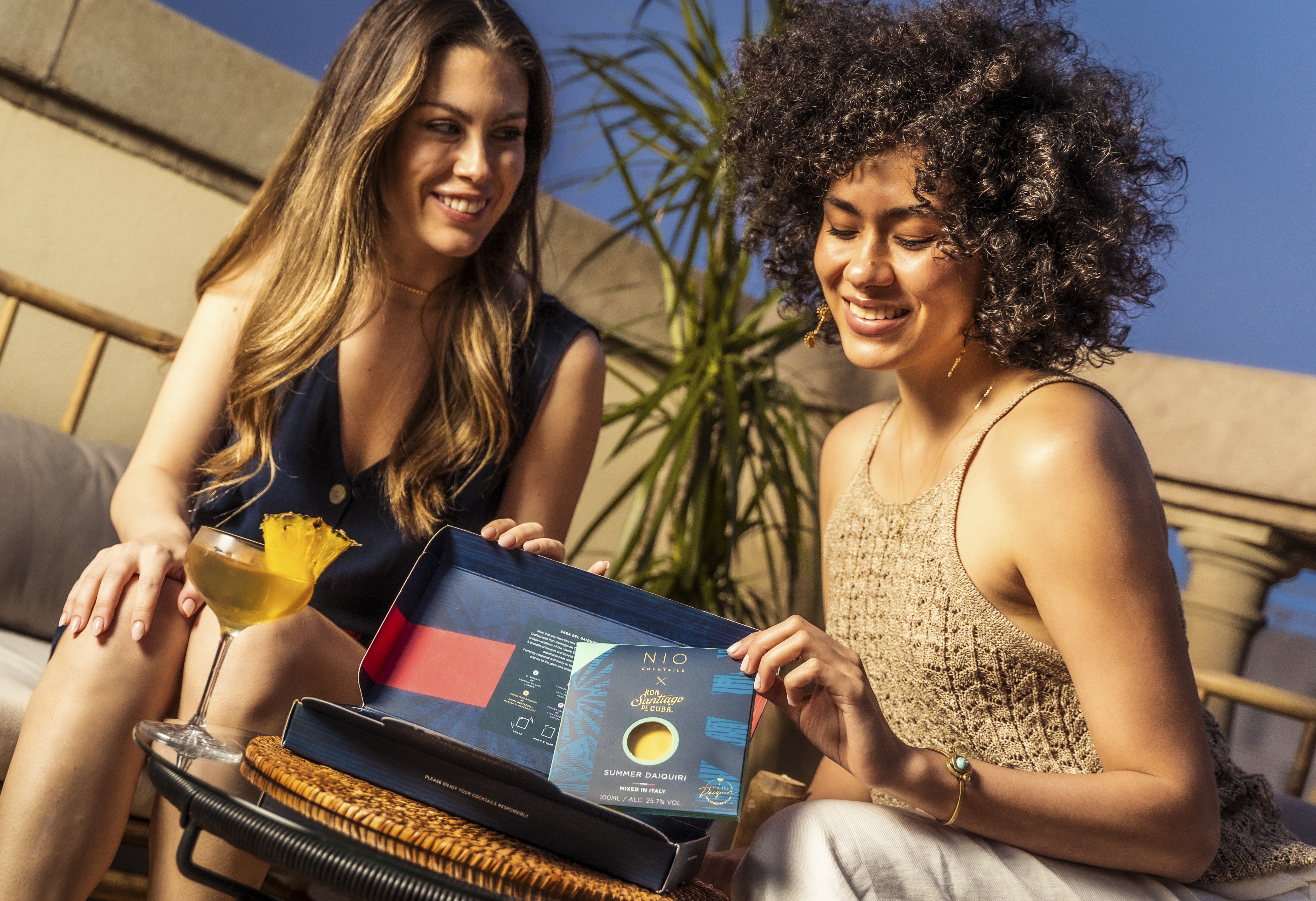 Fascinating Facts about Cocktails
While sipping on your Daiquiri (pronounced "da-ee-kiree"), why not entertain your guests with the captivating history of the origins of this classic cocktail? Let's take a trip to a Cuban mining town, where the Daiquiri was born.
Imagine a hot and dusty day in the late 1800s, Santiago de Cuba is bustling with activity as miners emerge. In need of a refreshing drink, they head to the local bar where a young American engineer named Jennings Cox is seeking relief from the heat. Cox orders a simple concoction of rum, lime, and sugar, and thus, the Daiquiri is born.
The moment the Daiquiri was invented, it rapidly gained popularity and spread throughout Cuba, eventually reaching the United States and beyond. It's no wonder that this timeless classic remains a popular cocktail today, with a rich and fascinating history that's sure to impress your guests. So let's raise a glass to the humble origins of this iconic drink!