Espresso Martini Cocktail
Spirits Business Autumn 2021 Gold Medal Winner
NIO-EM-3BOX
Ketel One Vodka and FAIR Cafe Liqueur, make for a rich, elegant classic.
Ingredients

Ketel One Vodka / FAIR Cafe Liqueur / Water / 100ml / 25.7% ABV

Taste

Recommended With

Appetizer, After Dinner

Awards

Autumn Tasting Gold Medal
FREE SHIPPING
Buy 6 or more of any cocktail and receive free standard shipping
TRACKED COURIER
Order before 5pm on week days for next day courier delivery
Letterbox design
Bespoke packaging for delivery through standard letterboxes
Cocktail Description
A mixology classic that requires little introduction, the Espresso Martini is a must-have in your home bar for pre or post dinner or sipping. The NIO spin on this beloved classic marries silky Ketel One Vodka with FAIR. Cafe Liqueur to create a sumptuous cocktail with a luscious mouthfeel.
FAIR. Cafe Liqueur prides itself on directly supporting Mexican coffee farmers through its fair trade initiative, while achieving a complex, full bodied flavour through its unique production process. The result is a modern Espresso Martini that's exactly as it should be: rich, robust, and thoroughly indulgent.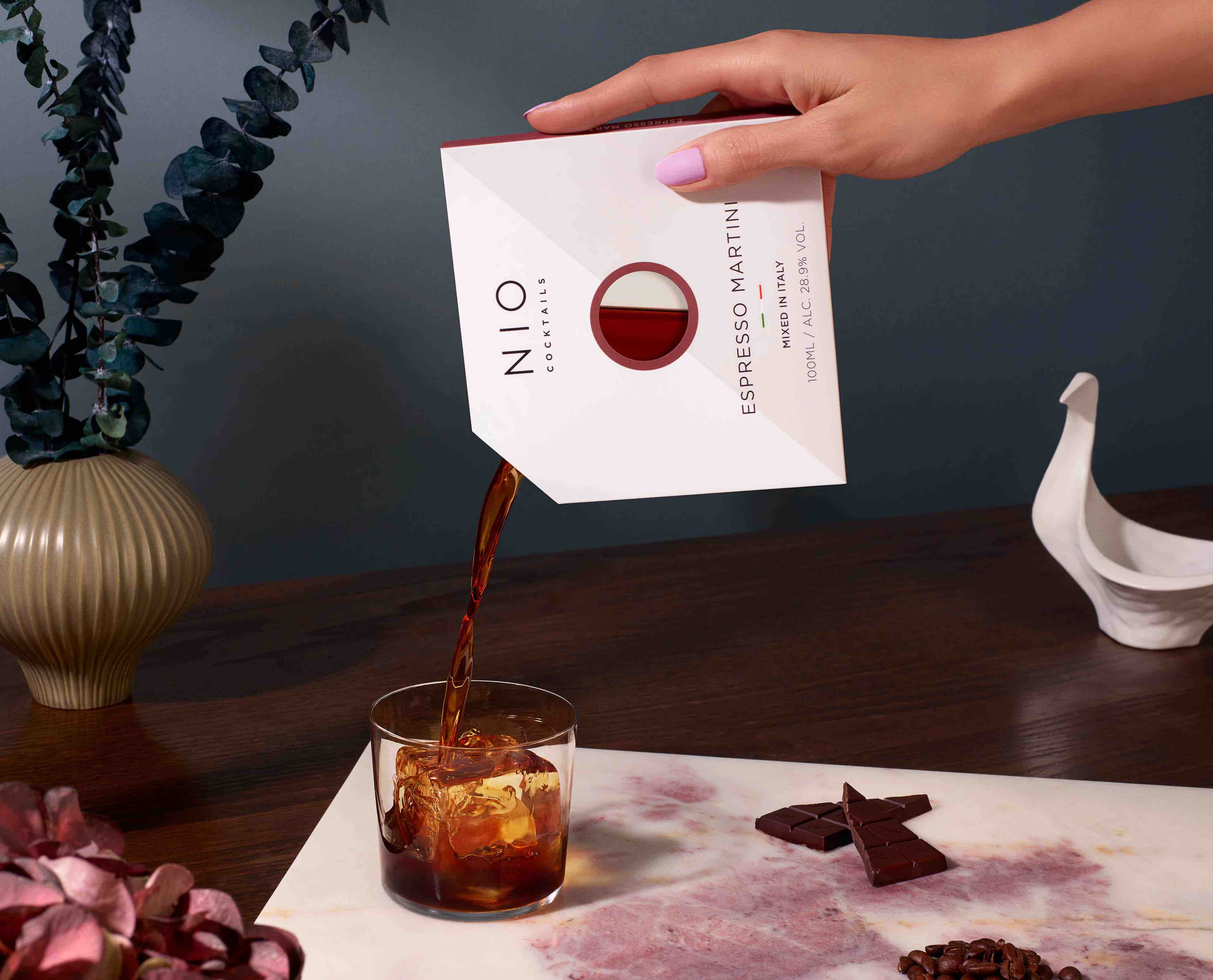 Espresso Martini History
A cocktail known by many names throughout its history, the origins of the Espresso Martini will remain the stuff of myth and legend for years to come. The story goes that one day a young supermodel sidled up to Dick Bradsell's bar at the Soho Brasserie and requested a pick-me-up cocktail with coffee…although her exact words were a little different! Mixing the now infamous drink with vodka, coffee liqueur, a shot of espresso and a little sugar, the Espresso Martini was thus born. The cocktail's name may have changed through Dick's bartending history (the 'Pharmaceutical Stimulant' is our personal favourite), but the iconic combination of vodka and coffee has remained the same since its inception.
Serve the perfect cocktail in one minute
Get your favourite tumbler glass
Once your glass has been filled with ice, give your cocktail pack a quick shake.
Tear off the corner
Simply pinch and tear the corner – no need to remove from the paper sleeve.
Pour over ice
Leave to stand for one minute and enjoy in good company.