Negroni Premixed Cocktail
Spirits Business Spring 2021 Master Medal
NIO-NG-3BOX
A dry, sweet-sour balance of bitters, Cocchi Vermouth and Tanqueray Gin.
Ingredients

Tanqueray Gin / Cocchi Storico Vermouth di Torino / Campari / Angostura Aromatic Bitter / Water / 100ml | 22% ABV

Taste

Recommended With

Appetizer

Awards

Spring Tasting Master's Medal
FREE SHIPPING
Buy 6 or more of any cocktail and receive free standard shipping
TRACKED COURIER
Order before 5pm on week days for next day courier delivery
Letterbox design
Bespoke packaging for delivery through standard letterboxes
Cocktail Description
Our Negroni has scooped the top Master accolade at the Spirits Business 2021 Spring Blind Tasting awards. Judges expressed "orange peel on the nose, clove and a nice bitterness on the palate", when savouring the NIO Cocktails Negroni. We're proud to be the only ready-to-savour cocktail to receive the very top award, a Master, for our best-selling cocktail!
Classed as the king of Italian Campari cocktails our Negroni cocktail perfectly blends equal parts of Tanqueray Gin, Cocchi Storico Vermouth di Torino, Campari and Angostura Aromatic Bitters for a punchy drink that's ideal to have just before dinner.
No other ingredients or specialist is required for our Negroni cocktail. Just tear off the corner of the sleeve and pour in a glass over ice to enjoy our Negroni to the fullest. Expertly mixed in Milan, Italy. This cocktail is not vegan friendly.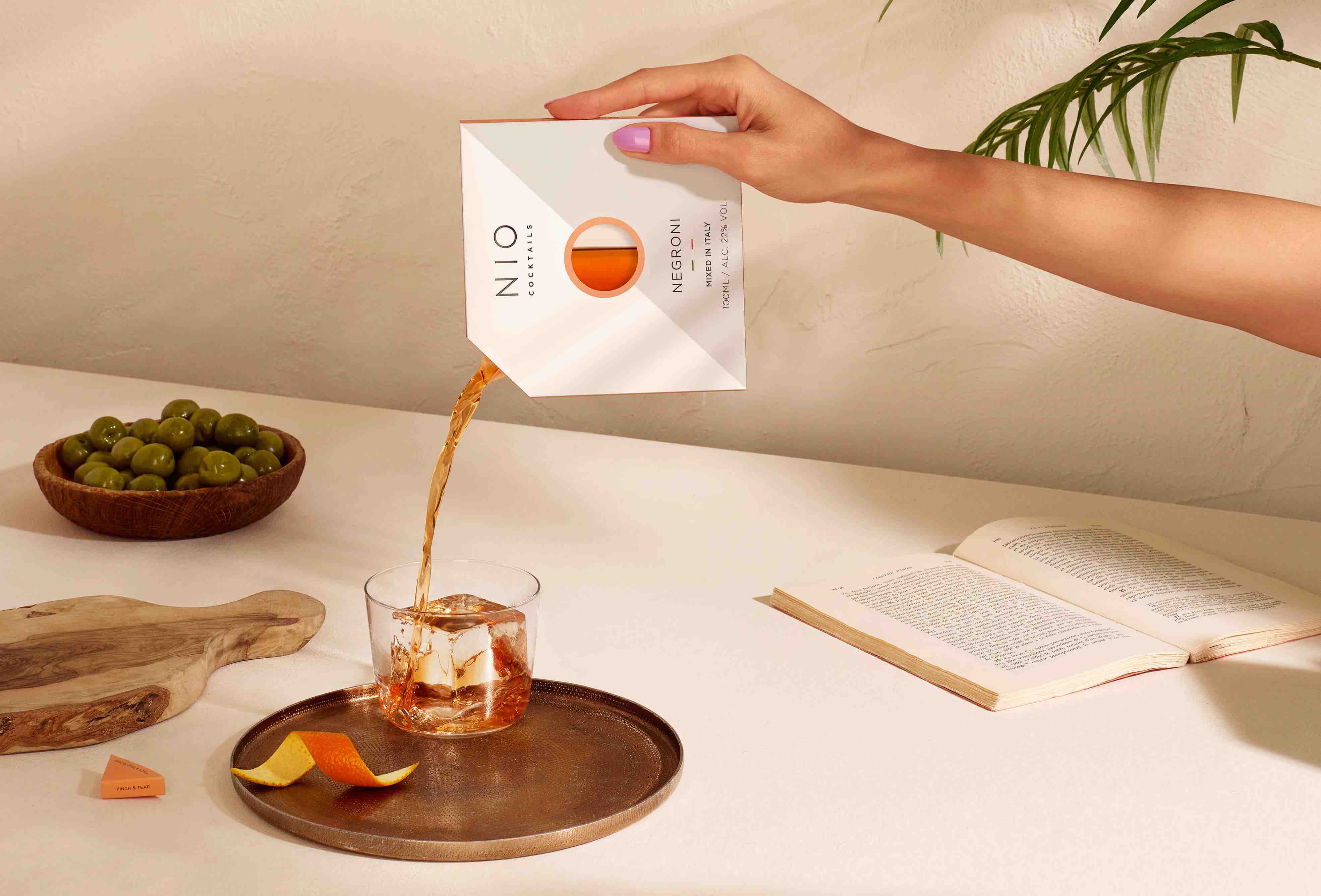 Negroni History
Florence 1919, maybe 1920. As usual, Count Camillo is at the Caffè Casoni. Yet he is in the mood for something a little stronger than his customary Americano. Inspired by recent trips to London, he asks barman Fosco Scarzelli to replace the soda water with a dash of gin instead. And so the 'American aperitif Count Negroni-style' is born. One of the all-time classic aperitivos. And perhaps the ultimate aperitivo full stop.
Serve the perfect cocktail in one minute
Get your favourite tumbler glass
Once your glass has been filled with ice, give your cocktail pack a quick shake.
Tear off the corner
Simply pinch and tear the corner – no need to remove from the paper sleeve.
Pour over ice
Leave to stand for one minute and enjoy in good company.
Negroni
has a rating of
5.0
stars based on
6
reviews.