Rebel Whiskey Cocktail Collection Box
£29
NIO-REBBOX

Plants 1 tree
You can track your impact after purchase.

Key Ingredients:
Espression

|
Explorer

|
Pioneer

|
Tenacious
What's in the box
Four bold bourbon cocktails crafted for the whiskey fan who has tried it all before.

For rock fans and whiskey aficionados alike, NIO Cocktails is proud to partner with Rebel Kentucky Straight Bourbon Whiskey to bring you four exclusive cocktails. 
The limited-edition NIO Cocktails x Rebel Box features four bold cocktails that embody the curious spirit of Rebel Bourbon. With flavour notes ranging from luscious red fruit and candied figs, burnt caramel and rich coffee, to dry and spicy cocktails, there is something for even the most daring of explorers to enjoy:
Espression Cocktail: Rebel Kentucky Straight Bourbon | Mancino Red Vermouth | Coffee Liqueur | Amarotto Casoni Liqueur | Mancino White Vermouth | 100ml | 28.8% ABV
Explorer Cocktail: Rebel Kentucky Straight Bourbon | Fig and Cherry Casoni Liqueur | Rinomato Bitters | Mancino Red Vermouth | 100ml | 28.4% ABV 
Pioneer Cocktail: Rebel Kentucky Straight Rye | Strega Liqueur | Kummel Liqueur | Mancino White Vermouth | 100ml | 32.3% ABV
Tenacious Cocktail: Rebel Kentucky Straight Bourbon | Rebel Straight Rye | Oloroso Sherry | Umeshu Akashi Tai | Banana Liqueur | 100ml | 27.4%
Inside the NIO x Rebel Whiskey Box
Espression: A luxurious after dinner drink with a smoky twist. The Espression takes the traditional Espresso Martini and adds a suitably rebellious flair, with warm allspice from the Rebel Bourbon bringing an extra dimension of richness to the table. A hint of smoke from Amarotto Casoni liqueur is reminiscent of lingering cigars at the end of a long dinner, as idle conversations stretch late into the evening. Warming and thoroughly indulgent.
Explorer: Meet the sweeter side of Rebel Kentucky Straight Bourbon. Candied fig and ripe cherry flavours are woven together with the famous vanilla allspice flavours of Rebel to create a truly sumptuous cocktail. A hint of bitters and balsamic vinegar bring balance and a surprising complexity to this romantic drink.
Pioneer: A drink for the daring. Peppery spice meets a floral, botanical edge in this bold answer to the traditional Italian aperitivo. Rebel Straight Rye Whiskey delivers a warm, spicy, and slightly dry base note to this cocktail balanced by unexpected, light floral notes reminiscent of saffron, tulip water, and pink pepper.
Tenacious: Inspired by our Master Mixologist Patrick Pistolesi's love of unexpected Asian flavours, Tenacious is a complex drink that represents Rebel's daring spirit. Rich spice and black pepper from Rebel Rye and Rebel Bourbon meet the sumptuous flavours of plum, chocolate, and oloroso sherry with a hint of leather. Bittersweet and bold, rich and unexpected, this cocktail embraces all sides of the Rebel's complex personality.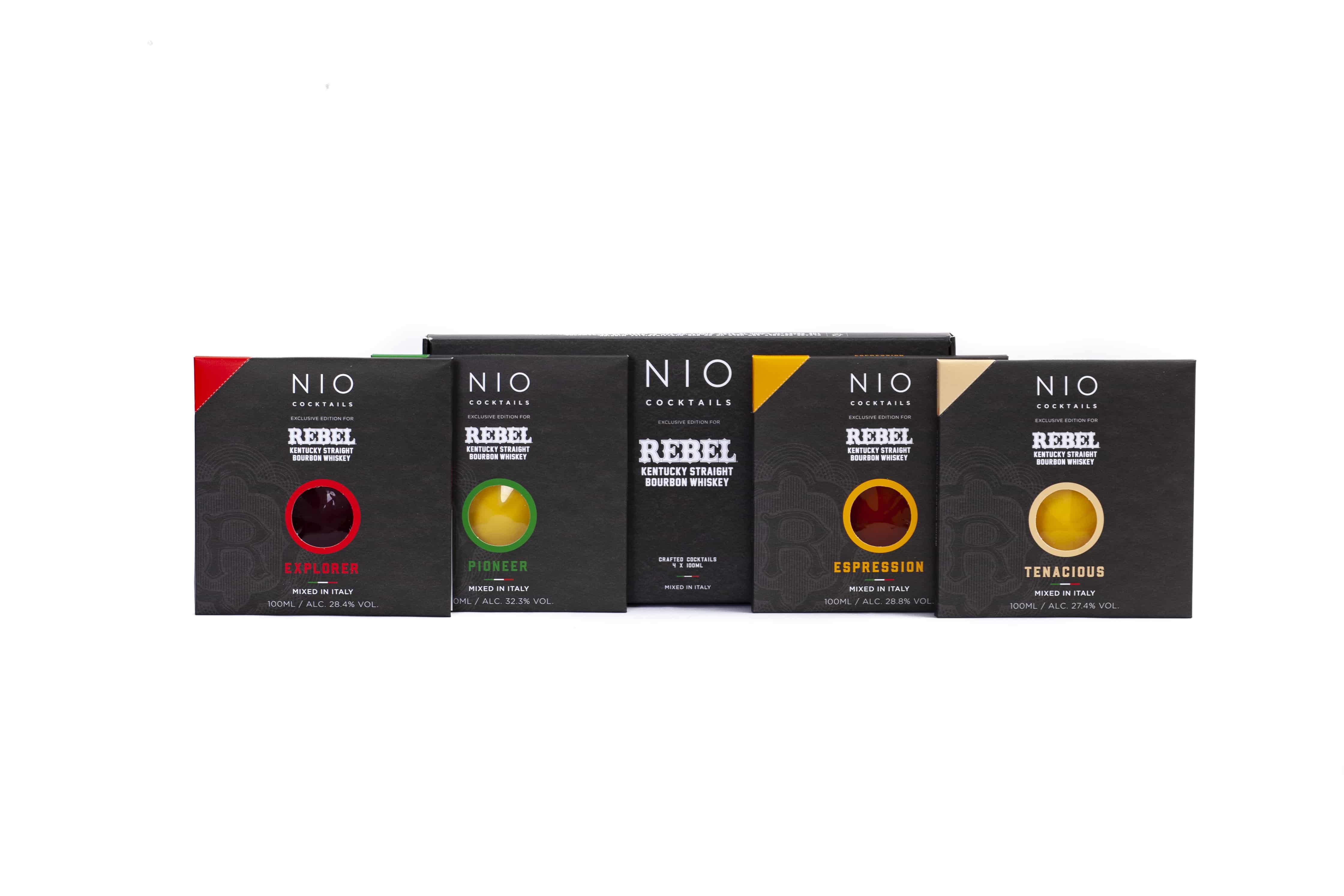 About Rebel Kentucky Bourbon
The Bourbon of choice for rock stars and mischief makers, Rebel Kentucky Bourbon is made by - and for - rebels since 1849. Crafted in the lush rolling hills of Kentucky, Rebel is renowned for distilling world class whiskey thanks to its enviable climate, and use of locally sourced corn, wheat, and rye to make their famous bourbons. Charred American oak barrels give both Rebel Straight Bourbon and Rebel Straight Rye their characteristic full bodied flavours, a spicy edge and rich, velvety texture. Their flagship whiskey, Rebel Straight Kentucky Bourbon, boasts a sweet and buttery flavour profile with honey and raisins on the nose, rich plum fruit flavours on the palette, and a deliciously warming finish. Meanwhile, Rebel Rye Bourbon brings more intense spice and slightly drier flavours to the table, with notes of fresh black pepper complemented by smooth vanilla and dark chocolate.