Summer Together Box
£39 incl. delivery
BIN0079750

Plants 1 tree
You can track your impact after purchase.

Our selection of 6 outstanding NIO Cocktails to share in your outdoor moment to refresh your guests with the summer breeze in a tumbler
Key Ingredients:
Tommy's Margarita

|
Strawberry Margarita

|
Tea Sour

|
Whiskey Sour

|
Manhattan

|
Disaronno Sour
What's in the box
6 summer cocktails to share with the ones who matter most.
Tommy's Margarita - Exotico Blanco Tequila/ Toschi Organic agave Syrup/ organic citric acid/ water/ 100 ml/ 20% vol A refreshing twist on the Margarita that allows the Tequila Exotico Blanco 100% Blue Agave.
Strawberry Margarita - Tequila Exotico Blanco (45%) / Cointreau (15%) / Creme de Fraise Merlet (10%) / 1883 Strawberry Syrup / citric acid / water / 25.8 vol Sweet strawberry takes centre stage sublimated by the tartness of lime and delicately balanced with a splash of Tequila Exotico Blanco
Tea Sour - T+ Tea Liqueur (55%) / citric acid / Toschi Sugar Cane Syrup / Water / 100ml/ Alc. 19.3% vol. Crafted with T+ Tea Liqueur, this fruity take on the traditional ice tea cocktail is the perfect recipe for a warm, fun day with friends.
Whiskey Sour - Bourbon Bulleit/ Organic citric acid/ Toschi Liquid Sugar/ Water/ 100 ml/ 23% vol. Rich Bulleit Bourbon Whiskey meets the tang of lemon for a refreshing whiskey cocktail.
Manhattan - Bulleit Bourbon Whiskey / Cocchi Storico Vermouth di Torino / Angostura Aromatic Bitters / Water / 100ml | 24.2% vol Spirits Business Pre-Mixed & RTD Masters - Masters Medal Winner
Disaronno Sour - Disaronno (60%) / citric acid / 1883 Lime Cordial / Toschi Sugar Cane Syrup / Water / 16.8 VOL Sweet and sour with delicate notes of apricot kernel that sublimate the tartness of lime for an exotic, almondy palate.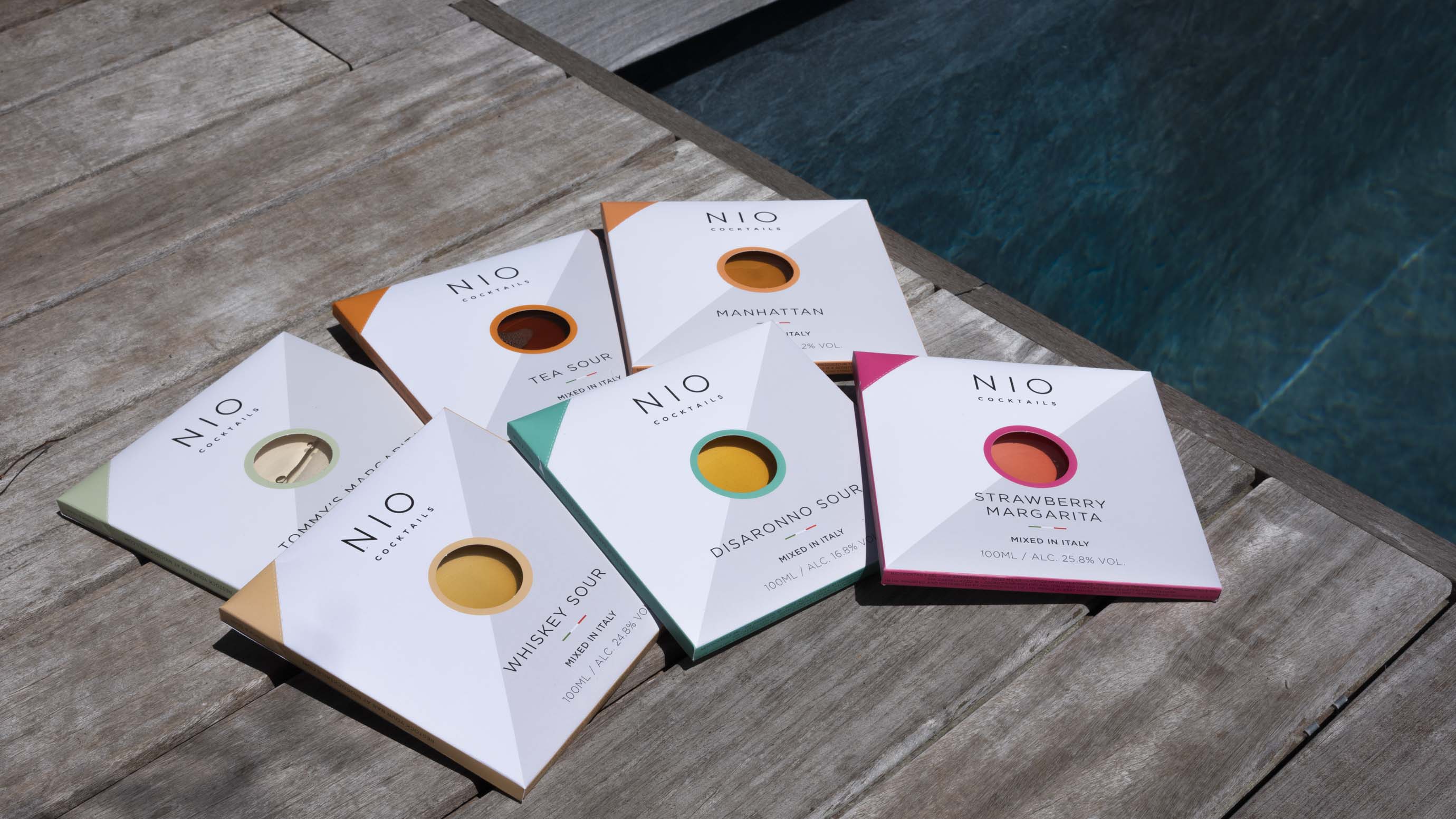 Why you'll love it
Summer is about fun in the sun in the garden, under the stars, on a trip, or admiring the sunset from a boat. The best part of it though, is the time you spend together. Patrick Pistolesi has curated a secret box of premium cocktails so you have all the time in the world to enjoy quality moments together without any of the fuss. There are sweet, sour and bitter profiles to suit different tastes, so after you've hiked, run, swam and ridden, now all you have to do is relax, tear and pour over ice. Cheers!