Portofino Dry Gin Cocktail Box
£29.00
NIO-PORTOBOX
Key Ingredients:
Gimlet Portofino

|
Caffe In Piazza

|
Negroni Portofino

|
Bramble
What's in the box
La Dolce Vita with NIO Cocktails and Portofino Dry Gin. Available once more due to high demand, and just in time for Mother's Day.
Four classic gin cocktails receive a suitably NIO twist in the Portofino Dry Gin Box, inspired by the tastes and sensations of Portofino's rugged hills. Quintessential Ligurian flavours like citrus, ripe berries and aromatic Italian herbs all feature in this exclusive collaboration, designed to captivate the senses and transport you to the Mediterranean coast.
Gimlet Portofino Cocktail: Refreshing, zesty and botanical gin cocktail Portofino Dry Gin | Carlo Alberto Sage and Lemon Liqueur | Giffard Ginger Liqueur | Toschi Liquid Sugar | Organic Citric Acid | 100ml | 25.3% ABV
Caffe In Piazza Cocktail: Rich, and complex coffee gin cocktail Portofino Dry Gin | Cocchi Vermouth Storico di Torino | Fair Coffee Liqueur | 100ml | 26.4% ABV
Negroni Portofino Cocktail: Aromatic and herbal, dry gin cocktail Portofino Dry Gin | Cocchi Americano Bianco | Luxardo White Bitter | 100ml | 25.4% ABV
Bramble Cocktail: Sweet and indulgent berry gin cocktail Portofino Dry Gin | Giffard Creme de Cassis | Cointreau Liqueur | Toschi Liquid Sugar | Organic Citric Acid | 100ml | 23.6% ABV
Inside the NIO Cocktails x Portofino Gin Box
Gimlet Portofino: The classic Gimlet is already a summer mainstay for good reason, thanks to its bright citrus flavour and light finish. However the addition of sage, lemon and ginger in the Gimlet Portofino brings a new depth of flavour and warmth that could not be better suited for an afternoon in the sun. Or better still - it brings a bit of the Mediterranean sun to wherever you are.
Caffe In Piazza: Sipping on the Caffè in Piazza cocktail feels akin to rubbing shoulders with stylish locals in Portofino Piazza. This sophisticated twist on the classic 1980's drink, the Martinez, boasts a complex, full-bodied aroma. Subtle allspice and mellow sweetness from Cocchi Vermouth beautifully balances the robust espresso flavours in Fair Liqueur, creating an elegant evening cocktail.
Negroni Portofino: The king of Italian cocktails, but not quite as you know it; the Negroni Portofino is a summer update on the ultimate aperitivo drink. Swapping the traditional Campari and red vermouth for Cocchi Bianco and Luxardo White Bitter creates a refreshing yet distinctly herbal alternative to the classic Negroni, with just a hint of orchard fruit.
Bramble: Aromatic orange peel, plump blackcurrants, a hint of rosemary and lavender; few flavours invoke a typical Italian sunset like those of a Bramble. The Bramble strikes the perfect balance between sweet and tart, indulgent and refreshing - an ideal accompaniment to peaceful days on the Mediterranean coast.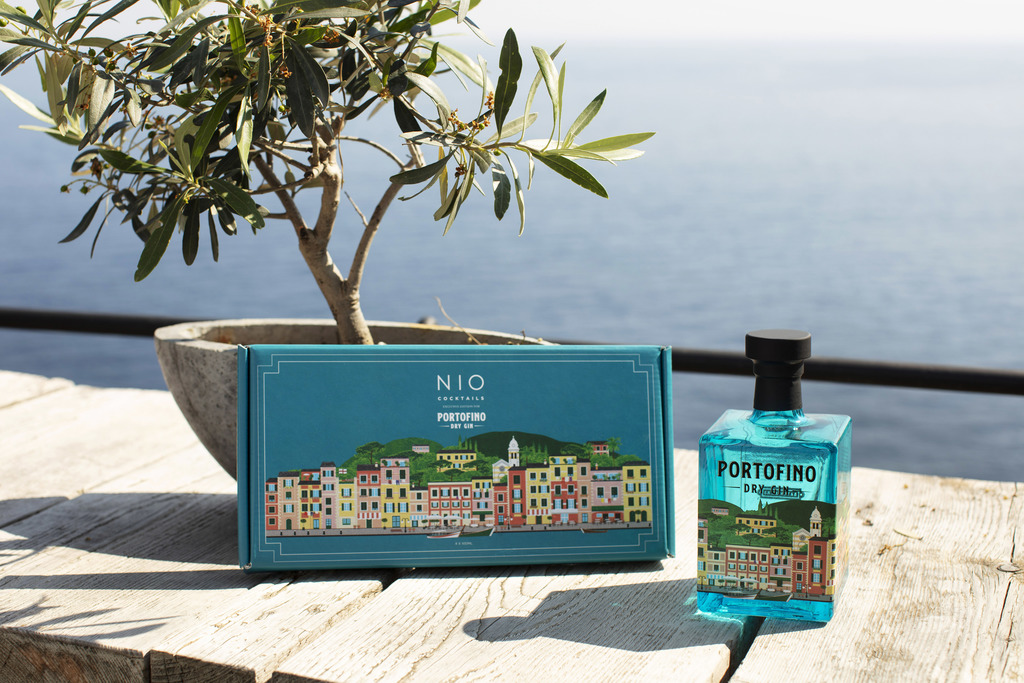 Portofino Gin
Portofino Dry Gin is a love letter to the Ligurian Riviera. Crafted in an antique Italian distillery with 21 botanicals, all sourced from the rugged hills of Portofino, this smooth and fragrant Italian Gin has won numerous international awards and continues to win over the public. Rosemary, sage, lavender and bitter lemon are among the many botanicals which inspired Portofino and are carefully selected to produce a flavourful, yet well balanced, dry gin. For our Master Mixologist Patrick Pistolesi, Portofino Dry Gin was the ideal gin to captivate the senses and immerse you in the Italian Dolce Vita - wherever you are.