Rum Cocktails and Chocolate Gift Box
£28
NIO-MJBOX

Plants 1 tree
You can track your impact after purchase.

Key Ingredients:
2 x 1832 Rhum Cocktails

|
2 x Scorza Majani 90% Italian Chocolate Bars
What's in the box
Luxurious Italian dark chocolate paired with unique rum-based cocktails to make for a luxurious gift set. Two cocktails and two bars of chocolate included.
Founded in Bologna in 1796 and for generations since, Majani has crafted luxurious chocolate with quality foremost on its mind. In 1832, Majani created the first solid chocolate "Scorza" (translated as "tree bark") in Italy, featuring a crumbly fondant made with a secret blend of 4 different types of cocoa beans.
Today, Majani still faithfully follows the ancient processes that its chocolatiers have handed down from generation to generation. A new "raw" product has been created, called Scorza Grezza 90%: this is a cold-worked chocolate, neither bowl-blended nor machine-refined. As a result, the chocolate preserves the granularity of the original cocoa paste obtained from grinding the toasted beans. A delicate hand tempering process further amplifies its aromatic bouquet.
Intense and persistent on the palate, Scorza Grezza 90% offers a sublimely precious gift for the taste buds. Paired with two 1832 NIO Cocktails, a bespoke rum-based cocktail, inspired by the rich Majani chocolate to add a counterpart to the palate with a hint of sweetness.
Scorza Majani Ingredients: Cocoa Mass | Sugar | Cocoa Butter | Vanilla. May contain traces of nuts, milk and eggs.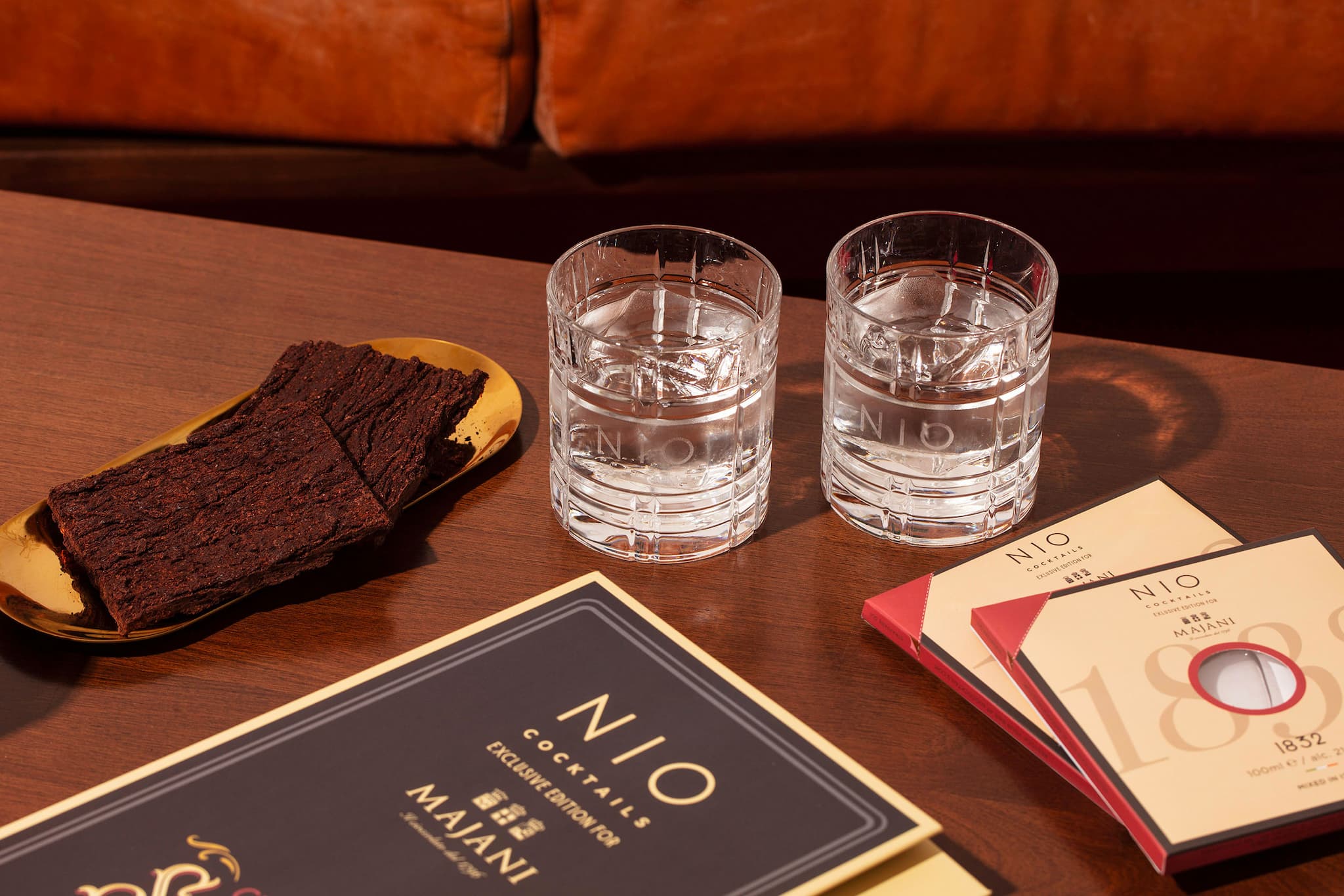 Introducing 1832 Cocktail
NIO Cocktails 1832: Our master mixologist Patrick Pistolesi has created an exclusive cocktail based on Rhum Canne Bleue from Martinique to pair with Scorza Grezza, which similar to Majani, uses a distillation process that has been handed down from generation to generation. Rhum Canne Bleue has been perfectly mixed with the Bols liqueur "Crème de Cacao White" to give an unmistakable sweet and enveloping flavour and present the perfect partner to Scorza Grezza. Two cocktails are included in the Majani Box.
Ingredients: Rhum Blanc Clement Canne Bleue | Bols Cacao White | Toschi Liquid Sugar | Organic Citric Acid