Drink Kong Cocktail Box
£29
NIO-KONGBOX

Plants 1 tree
You can track your impact after purchase.

A limited-edition box dedicated to Drink Kong. Each box is numbered, signed by Patrick Pistolesi, and features 4 artisanal cocktails.
Key Ingredients:
Big trouble in Oaxaca 21.2% Vol | Summer Kup 24.2% Vol | Tentation 27.4% Vol | Bang! Bang! 24.7% Vol
What's in the box
Cocktail enthusiasts may have heard of Drink Kong in Rome, Italy. In just three years, it reached number 16 in the 50 World's Best Bars 2022, and this limited-edition box is a love letter to its success story. Each drink was created by Patrick Pistolesi, Drink Kong's owner and NIO Cocktails' master mixologist. They're unconventional, delicious and crafted with a magic only Patrick can bring.
Big trouble in Oaxaca / 21.2% Vol / Tequila Casamigos
A beautiful spicy tequila drink with refreshing notes of pineapple and melon. A dinner cocktail.
Summer Kup / 24.2% Vol / Tanqueray Gin
A refreshing gin cocktail with citrusy bergamot and elderflower notes. A beautiful cocktail to sip on social nights. 
Tentation / 27.4% Vol / Tanqueray Gin
A Drink Kong classic. An elegant white Negroni with beautiful floral notes given by vermouth supported by white Luxardo bitters. To be enjoyed before dinner. 
Bang! Bang! / 24.7% Vol / Bulleit Whiskey
A potent whiskey drink, with an Italian touch of vermouth, sweetened with some round créme de mure. To be enjoyed after dinner.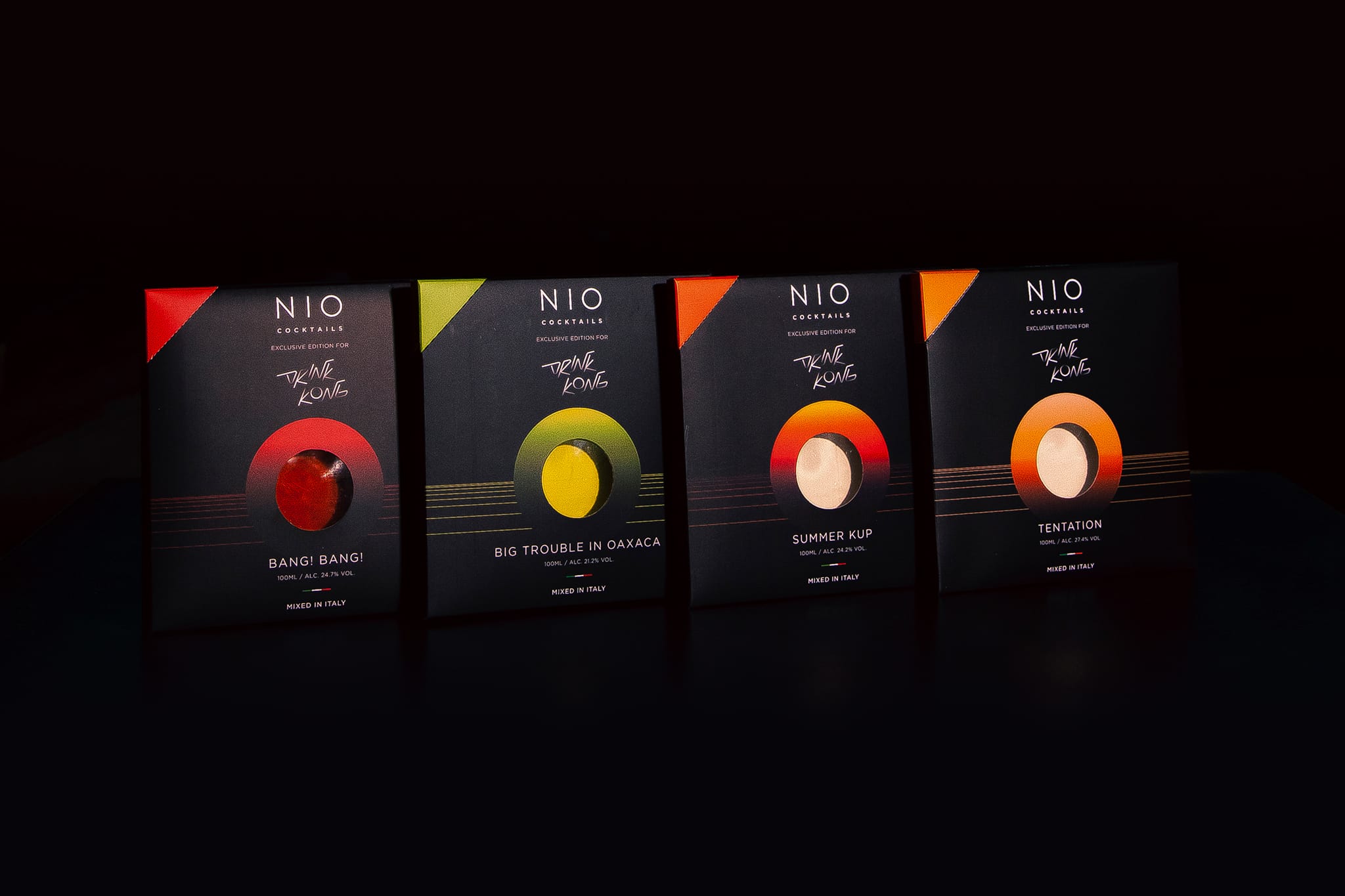 The Drink Kong box's story
The box contains four cocktails from the original Drink Kong menu. The citrusy Tentation – a twist on the White Negroni, and Summer Kup – an ode to the glory of Summer. Then there's Bang Bang! – Patrick's 'punk' Manhattan Sour with blackberry syrup and Big Trouble in Oaxaca, with Tequila Casamigos, and notes of pineapple, melon and spicy Green Ancho Reyes. 'It's like being in a real Mexican bar', says Patrick.