Virgin Bitters Non-Alcoholic Negroni
Alcohol-Free - IWSC International Wine & Spirit Competition- Silver Medal Winner 2022
NIO-MVB-3BOX
A delicious take on an alcohol-free Negroni, with notes of spice, citrus and bitters.
Ingredients

MEMENTO AROMATIC BLEND / MONIN NON-ALCOHOLIC BITTER / ORGANIC CITRIC ACID / WATER

Taste

Recommended for

Dinner

Awards

Master Medal Winner 2022
FREE SHIPPING
Buy 6 or more of any cocktail and receive free standard shipping
Cocktail subscriptions
Have your cocktails delivered every 1, 2 or 3 months
NIO Rewards
Get VIP perks like reward points, member-only offers and more.
Why you'll love it
Our unique Virgin Bitters mocktail allows you to enjoy the depth, punch and flavour of the Negroni cocktail without the alcohol. Perfect to drink as an alcohol-free aperitif before an evening meal, our Virgin Bitters combines non-alcoholic spirits with bitters to deliver a deliciously spicy and fruity blend. Expertly mixed in Milan, Italy.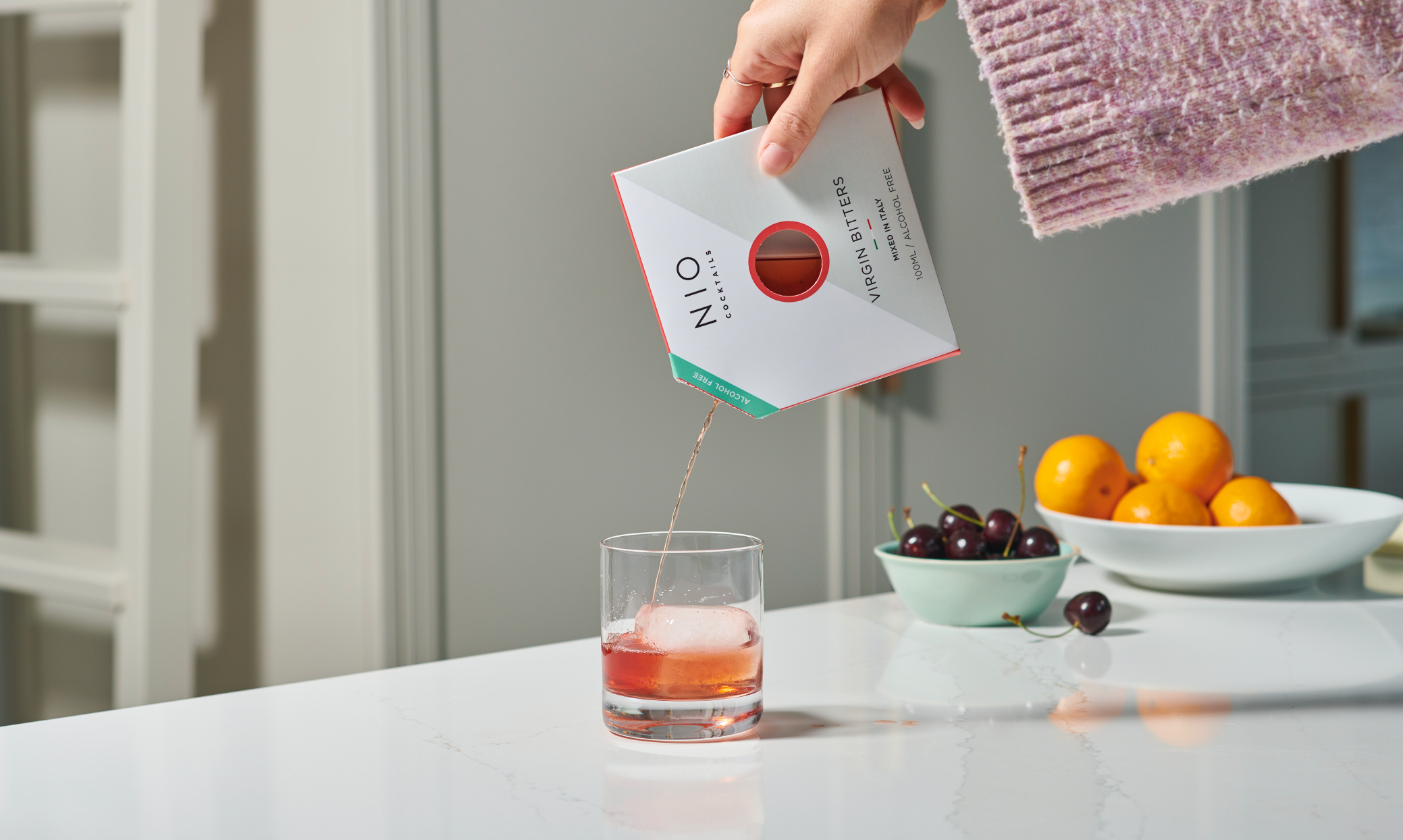 Virgin Bitters History
Enjoyed all over the world, bitter aperitifs including the Americano and Negroni are staples of Italian mixology, renowned for whetting the appetite and opening up the palate for the meal ahead. Delivering the depth of flavour of a classic bitter aperitif but without the alcohol, our Virgin Bitters cocktail uses an aromatic blend of non-alcoholic distillates into which we add our bitters. It delivers gentian and cardamom on the palate, giving way to a subtle spicy and fruity finish – the perfect set up for the evening ahead.
Serve the perfect cocktail in one minute
Get your favourite tumbler glass
Once your glass has been filled with ice, give your cocktail pack a quick shake.
Tear off the corner
Simply pinch and tear the corner – no need to remove from the paper sleeve.
Pour over ice
Leave to stand for one minute and enjoy in good company.