Mother's Day Cocktail Box
£39 incl. Gift Wrap
NIO-MDAY-6BOX
Key Ingredients:
Cosmopolitan

|
Daiquiri

|
Tommy's Margarita

|
Gin Sour

|
Gin Proved

|
Vodka Sour
Product Description
The new limited-edition Mother's Day Cocktail Box features 6 spring fresh cocktails, complete with bespoke gift wrapping. We asked our patrons to share with us their mum's favourite flavours, occasions and even her style to help us curate this very special collection of six NIO Cocktails. 
This collection box includes a set of timeless classics and modern creations featuring notes of sweet fruit and refreshing sour. Each cocktail is directly inspired by the stories shared to celebrate mum, delivered to her door this Mother's Day.
Cosmopolitan: 

A stylish and delicious classic, this vodka based cocktail is our first winning cocktail as an 'any occasion' favourite for mum.

Daiquiri: 

A rum-based, timeless classic, our Daiquiri was a hot favourite for its refreshing flavour, iconic taste and mum's love of sipping on the beach! 

Tommy's Margarita: 

For the "Hostess with the Mostess", our Tommy's Margarita was your choice for its fruity flavour and tequila kick to get the [virtual] party started.

Gin Sour: Showcasing mum's favourite spirit (according to you!), our Gin Sour balances a dash of sugar with bitter lemon to refresh the palate. 
Gin Proved: Our Gin Proved is celebrated for its subtle sweetness, light perfume and gorgeous purple hue - and something new for mum to try to her alternative gin tipple.
Vodka Sour: The bitter-sweet balance between Ketel One Vodka and citrus makes this cocktail light, thirst quenching and moreish. 
You asked, we've curated #mumsfavourite!
In the spirit of celebrating the special women in our lives, we looked to our patrons to understand what would make for the ultimate cocktail combination of mum's favourites for her very own NIO box - the Mother's Day Cocktail Box.
Over the past two weeks, our head bartender Patrick Pistolesi has handed over the reigns to you to tell us which 6 NIO Cocktails would make for the perfect collection for mum.
The result? A brand new limited-edition set of six cocktails form our NIO menu showcasing all the stories and insights our patrons shared with us. Cocktails to represent mum's style, her flavour preferences, even the time of day or place that she most enjoys a cocktail! From timeless classics and fruity favourites, to beach holidays and winter aperitivo, this cocktail collection is dedicated to mum.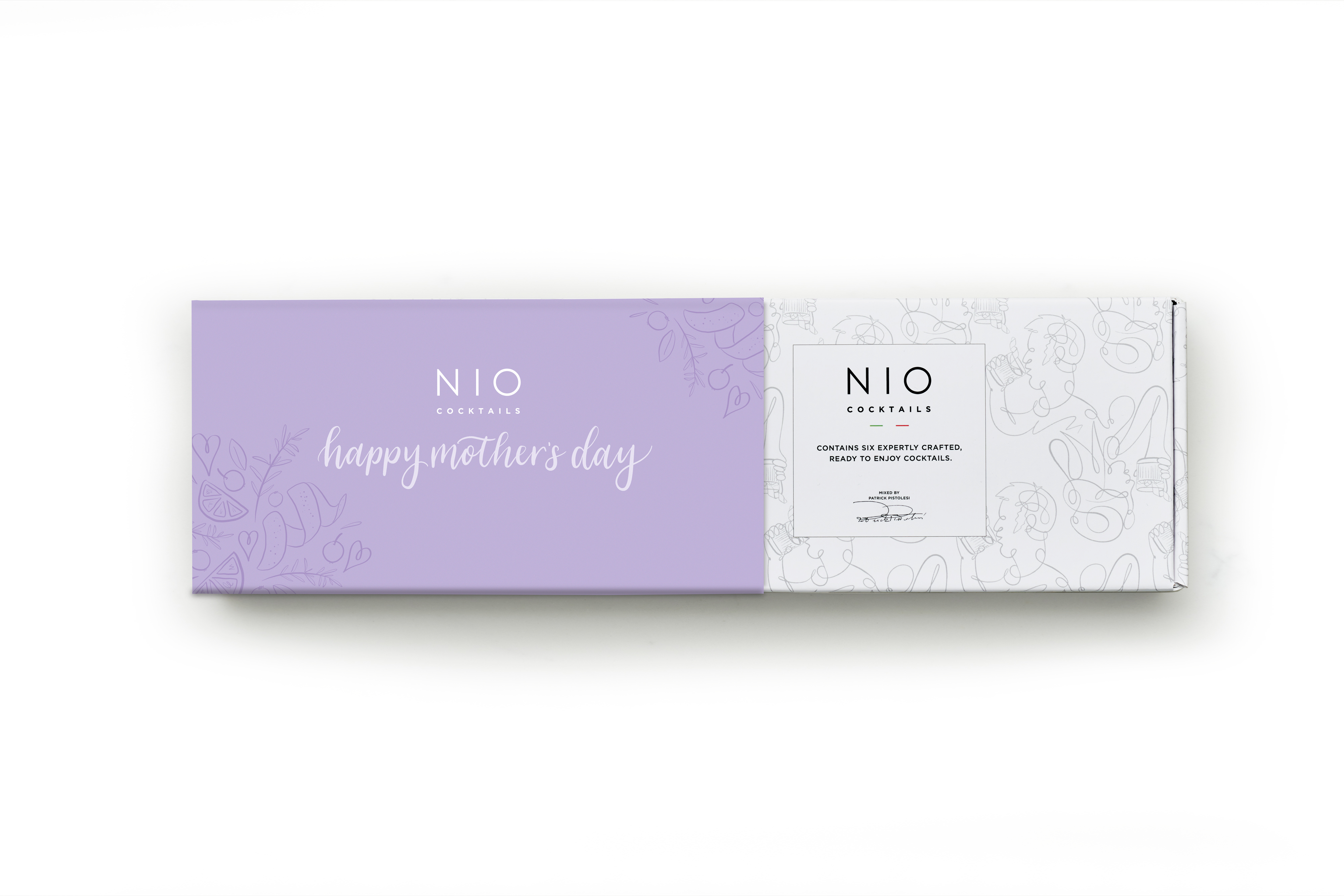 Gift wrapped, with love
The Mother's Day Cocktail Box includes a limited-edition gift wrap sleeve, that fits snugly over our standard 6-box letterbox. An elegant finishing touch to this unique set of 6 cocktails. Each cocktail has been selected by our patrons to represent the flavour preferences and preferred cocktail occasions by your mum's. Why not indulge her in a limited-edition NIO Cocktail collection box - complete with gift wrap, and a personlised gift note.