Romantic Love Cocktail Bundle
£41 £35.00 Bundle Offer
NIO-ROM-BNDL
Key Ingredients:
1 x Postcards from Venice Cocktail Box

|
2 x NIO Cut Glass Tumblers
Product Description
£35.00 Valentine's Bundle! Four aromatic Italian cocktails and two NIO Cocktail glass tumblers, a romantic gift set for two.
The Postcards from Venice collection features Select Aperitivo, a bitter-sweet Italian liqueur distilled in the heart of Venice since 1920. With two glass tumblers to serve, enjoy the vibrant red cocktails, each crafted by Patrick Pistolesi, waltzing you on a tour through time in this iconic romantic city.
Immerse yourself in Venetian culture as you sip, and discover the stories as each cocktail is a postcard from Patrick, to you.
This Valentine's Day, let NIO bring you a little Venice to your doorstep with a romantic cocktail gift set for two:
Inside Postcards from Venice Collection
421 Laguna: Select | Cocchi Vermouth Americano | 100ml | 13.6% ABV
1104 Arsenale: Select | Bonollo Italian Brandy | Cocchi Americano Bianco | Chazalettes Vermouth Di Torino Extra Dry | 100ml | 21.4% ABV
1725 Le Calli Di Casanova: Select | Bols Creme De Cacao | Organic Citric Acid | Liquid Sugar | 100ml | 11.1% ABV
2021 Cannaregio: Select | Italicus Rosolio Di Bergamotto | Pomme Roner Liqueur | Organic Citric Acid | Liquid Sugar | 100ml | 12.5% ABV
As you sip and savour, journey through a 'virtual tour' of Venetian history and culture with mixologist Patrick Pistolesi by discovering the postcard detailed on the back of each cocktail pack.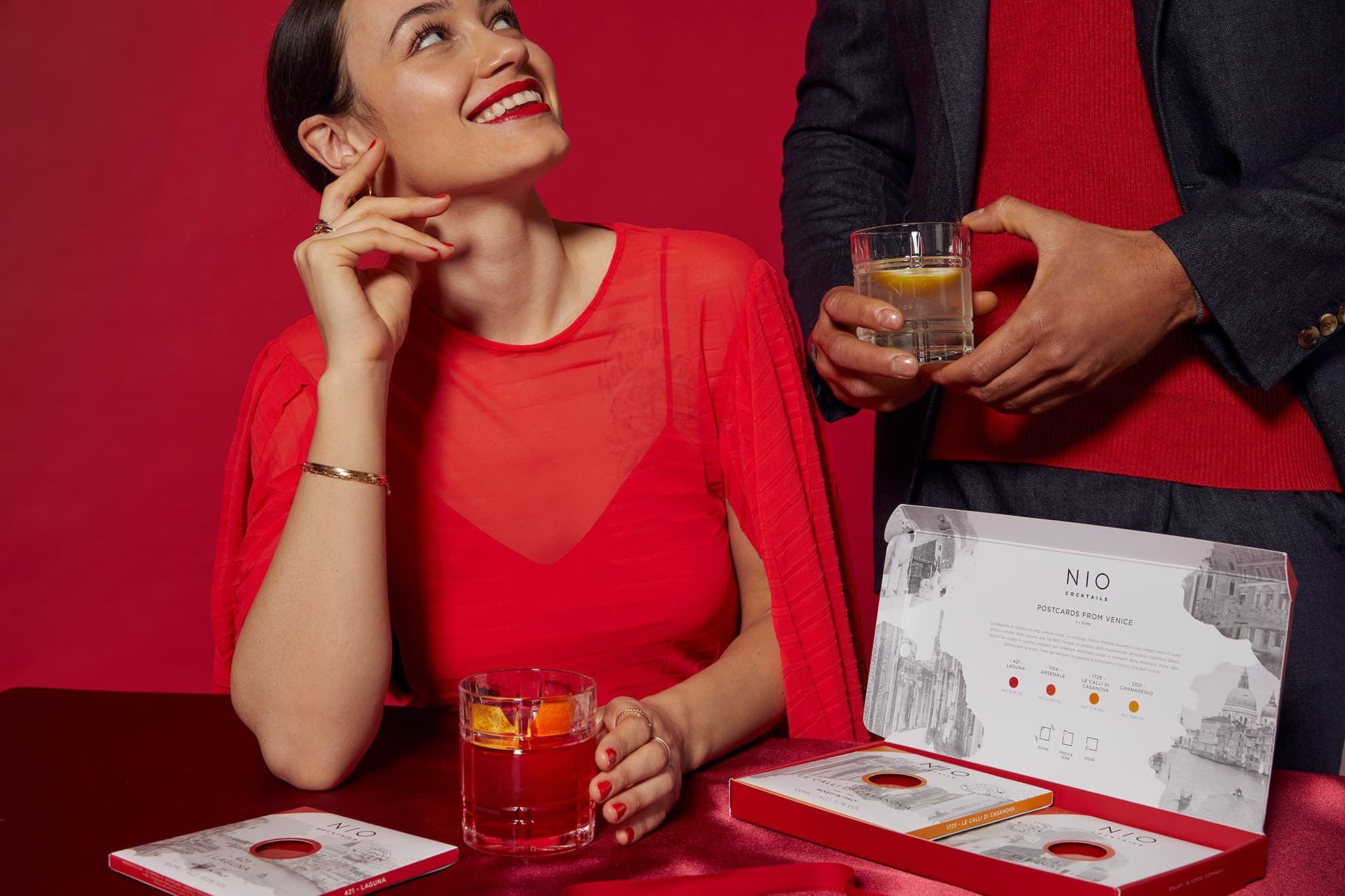 About Select Aperitivo
Created in the Castello district of Venice at the Pilla Distilleries, Select is a red bitter aperitivo liqueur crafted with 30 different botanicals. With aromas of bitter orange, floral notes carry through to it's taste of strawberry and raspberry red fruits, orange citrus and a hint of lavender.
Select is fruiter than Campari with a lighter finish, making for the perfect feature to our aperitivo tour of Venice.
Travel through the iconic city of Italy guided by Patrick Pistolesi, our head mixologist, with four cocktails. Each with a unique story that make up our Postcards from Venice collection box, and best enjoyed in our classic NIO Cocktails Glass Tumblers.